By Shenron on Jan 04, 2009 with Comments 0
---
Who is Danica Patrick? (Commonly and Wrongfully referred to as Danika Patrick…)
Unless you have been living under a rock, Danica Patrick is quickly becoming one of the most recognizable faces on the planet. Yes, she is beautiful, yes, she is athletic and yes, she is a winner. If you are into Indy Car or just a car buff, you will instantly recognize this brunette bombshell.
Here is a short biography about this fresh face that completely blew away Indy Car fans.
Some Basic Facts about Danica
Danica Patrick comes from a race loving family. In fact, her mom Bev and father T.J. met on a blind date at a snowmobiling race in 1970. All things considered, Danica was born in the small town of Beloit Wisconsin on March 25, 1982, she is currently just 26 years old and during this time she has accomplished more than most adults and many racers have in their entire lives.
Life was pretty normal for Danica and since her parents loved racing, Danica got into go kart racing at the early age of 10. While her parents offered plenty of great support, good management and past on some good genes, Danica added the rest of the ingredients that would make her one day a true auto racing star. She worked tremendously hard at learning go kart racing, she had a tremendous amount of desire to win and had a true love for the sport of auto racing. With these great attributes, Danica Patrick went on to win a host of many World Karting Association Championships.
In fact, as she continued to win, Danica and her parents began to think big and it all started out at the age of 14 when Danica had the dream and made the commitment to win the Indy 500. With a dream, some talent and the support of her parents at the age of 16 years old, the Patrick's decided that Danica needed a true learning experience, as well as take advantage of new racing opportunities. With the help of several sponsors, she moved to England for an invaluable education. As a racer in England, Danica made the break with her counterparts at home and learned many much needed skills from top racers she viewed in Europe. As she aged, she took advantage of racing in Formula Vauxhall Junior races, as well as Formula Ford events. Her first year in England (1998) she placed ninth in the Formula Vauxhall Championship, however in 2000, she raced in the British Zetek Formula Ford series and as an American racer, she performed incredibly well even matching Danny Sullivan's 1972 runner up place at the finish line.
Being in England kept her far away from her family and while Danica acknowledges it was tough for her, it was well worth the experience, helping her to toughen up and focus on the nuts and bolts of racing.
Danica incredibly is 5'1 and while she is attractive, don't think she is a cream puff. In fact, her body style is similar to a solid gymnast who can be quite flexible, but offers incredible bouts of strength and endurance. This body type is definitely a plus in racing as the physical endurance of a racer is constantly tested at the extremes of what a man or in this case a women can experience.
After her experience in England, she returned home to the states and immediately won the Gorsline Scholarship Award, which is quite an achievement; it is the award given to the top up and coming young racer for the year. Danica attributes this win to her experiences in England and being at the top of her game after working extremely hard for the last decade.
After winning the scholarship, she started to impress quite a few professional racers and team owners and in 2002 at the age of 20, she signed a multi year contract with the racing team Rahal Letterman (Letterman from the David Letterman talk show fame).
As part of the Rahal Letterman, she raced in the Toyota Atlantic Series and placed comfortably in third. While not first, she did break the barrier of being the first women on the winner's podium. And while she continued to race in the Toyota Atlantic Series, she did phenomenal placing in the top five in 10 races out of 12 and came in third again for the 2004 event.
IRL 2005
With Danica's raw talent and skills, she felt she was ready to make the biggest decision in her life- to participate in the IRL (Indy Racing League) and of course fulfill her dream of racing in the infamous Indy 500.
While at first, many had their doubts and several male drivers objected to her racing at all due to her 100 pound frame, others welcomed the third women to race in the IRL and her team threw in their full support knowing her skill level and determination to succeed.
Racing in IRL, would not start out on the best foot forward, in fact, her first race she crashed and her second and third races she placed miserably 15th and 12th. However, starting on her fourth race, which she finished fourth, her luck changed and she never looked back and even amazed many in the racing scene.
While she was well known within in racing circles for her bright future and immeasurable talent, it was in 2005 that she quickly went on the media's radar with her posing (in a sexy outfit) in the men's magazine FHM that brought her a wealth of new fans and increasing media attention.
As a racer within the IRL, the biggest and most popularized IRL meeting is the Indy 500 held over Memorial Day Weekend since 1911. While Danica was not the first women to ever race in the Indy 500, in 2005, she held the lead for over19 laps and finished an astonishing 4th place in her first Indy 500 showing. After coming so close to winning Indy 500, her popularity skyrocketed and she was on the radar of practically every racer, as well as media publication around.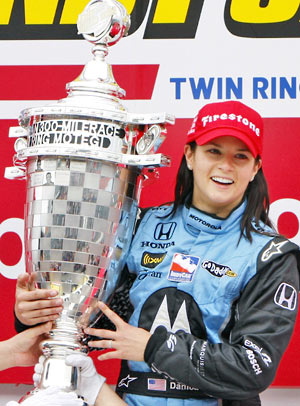 IRL 2006
During the 2006 season with IRL, tragedy struck as teammate Paul Dana was killed in a practice run. Both Patrick and Budd Rice bowed out of the first race in the Toyota Indy 300. While she did well during the season, she was able to once again qualify for the Indy 500, starting 10th and ended the race respectably in 8th place. All in all for the season, Danica Patrick ended 12th in the series.
IRL 2007
In 2007, she decided to race with Andretti Green Racing team and took over the #7 car replacing Bryan Herta. While this season was filled with ups and downs, she did well in the Indy 500 placing 8th once again. However, she did have some bad luck and a few crashes that took her out of contention- she scored her personal high in championship points to finish with 424 points and overall the 7th place spot.
IRL 2008
2008 would be a banner year for Danica as she would be the first women ever to win an IRL race. While it wasn't the Indy 500, she did come in first place at the Indy Japan 300. Overall for the year, she cam in 6th place and besides being the first women to ever win an Indy event, she was tops among all the American drivers for the season.
Obviously being young, beautiful, exceptionally talented and a winner has thrusted Danica Patrick into the limelight. She has been featured in numerous magazines, commercials and TV shows. In fact, you might have seen her on Spike TV, the Late Show with David Letterman, FHM and even in Playboy- however, before you start looking for her centerfold, she did not pose nude, she just participated in the 20 questions segment (July 2007). And yes she was in the Sports Illustrated Swimsuit Issue (a nice 4 page spread). As far as ranking is concerned outside of IRL she was voted Victoria's Secret Sexiest Athlete and FHM's 100 sexiest women in the world ranking #42 in 2006 and #85 in 2007.
Personal Tidbits
Some other tidbits about Danica Patrick's personal life that should be noted is that she is happily married to Paul Edward Hospenthal, who was originally her physical therapist and for all you Talladega Nights film buffs has a dog named Ricky Bobby.
Related posts:
Filed Under: General
Comments (0)
Leave a Reply
You must be logged in to post a comment.