By arman on Sep 03, 2009 with Comments 0
---
CARACTERE Automobile are offering us their latest body kit which is specially designed to fit perfect on both, the former Audi Q7 and the new 2010 Audi Q7 FACELIFT model (except the front grill, but from Caractere said they will not going to provide it).
The new CARACTERE body kit adds more stylish, aggressive and unique look of the Q7 automobiles. The car's appearance is refined with the least amount of changes.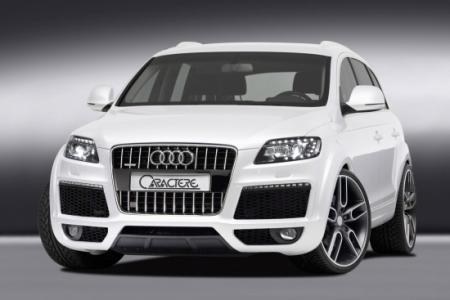 The CARACTERE Audi Q7 body kit is consist of a complete front bumper for cars with original fog lights, with/without PDC (compatible with the "Adaptive Cruise Control" option (ACC) and with the original headlight washers), a rear spoiler with left & right tips for cars with/without tow bar (an OEM rear spoiler with smooth finish (Q7 first generation) has to be ordered to be able to fit our spoiler), a roof spoiler and a set of wheel arch extensions. All parts are made from PURim.

For this type of car CARACTERE offers a CW1 wheels, available in 20" and 22" size. These rims along with adjusted ride height play a major role in giving a new look to Audi's biggest car on the market!
Further Readings:
Filed Under: Tuning
Comments (0)
Leave a Reply
You must be logged in to post a comment.