By arman on May 10, 2010 with Comments 0
---
Famous for their engine transplant operations, Manhart Racing has come up with a V10-powered BMW M3 Coupe which beats every Porsche Turbo as far as power matters.
Actually they just wanted to beat Porsche 997 Turbo, but what they've ended up with is even more powerful than the monstrous 997 GT2!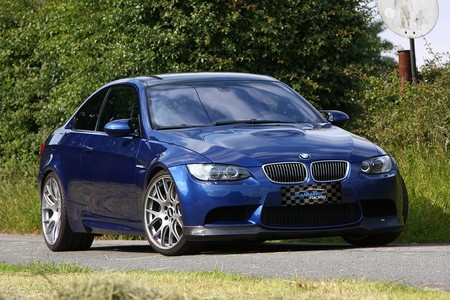 The V10 engine they have inserted on the the M3's bonnet is of course the M5's 5.0 liter which develops 507 hp. But then they have tweaked it to give 550 hp! It results in accelerating from 0 to 100 km/h in 3.9 seconds while the top speed is 344 km/h.
Other modificaitons include Bilstein PSS10-Coilovers suspension, plus BBS Challenge R-wheels in dimensions 9Jx20" ET20 with 245/30 ZR20 at the front and 10.5Jx20" ET20 with 295/25 ZR20 at the rear.
The car has also received a carbon fiber body kit consisting of new front and rear spoiler, a diffuser, a roof spoiler, a Front sheet cover and an air collector.
Further Readings:
Filed Under: Tuning
Comments (0)
Leave a Reply
You must be logged in to post a comment.