By arman on Sep 03, 2009 with Comments 0
---
One of the best looking E46 M3 Coupe is from Kneißler Autotechnik. To be able to increase the performance of the high number of revolutions gearing up to 459 hp and 498 Nm, Kneißler Autotechnik offers a supercharger using a compressor kit and a charge air cooler with the adequate software optimization.
After this capacity cure the sporty BMW M3 wants to get on the road, the highway or even better on the racetrack. Here in fiddle chicanes the Kneißler M3 feels at home. The increase of performance is worth 13.000 Euro. For additional 1.350 Euro Kneißler mounts a sport muffler, made of high grade steel.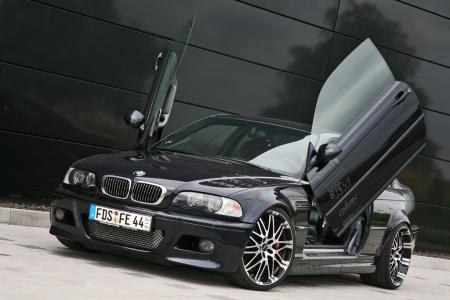 These extreme driving performances make great demands on the tires, chassis and brakes. Kneißler mounts a Stoptech-high performance brake system with 6-lobes (3.852 Euro) and a two part slit discs (size 380×32 mm) at the front axle. The Stoptech brake system with 355/32 mm brake discs with 4-lobes (3.103 Euro) takes care of the needed deceleration in the rear.
The whole brake system is complemented by a innovative brake caliper air vent plug (109,00 Euro) from Stahlbus.


The advantages of the Oxigin-alloys are an addition of driving dynamics, exclusive visual appearance and they fill out the fender perfectly. The sizes are 8,5×20" and 11×20" and are hooped with high performance tires from Hankook, sizes 255/30-20 and 305/25-20. The price for the set is 2.723 Euro. For an extra 350 Euro the wheel arch are flanged and custom-fit applied.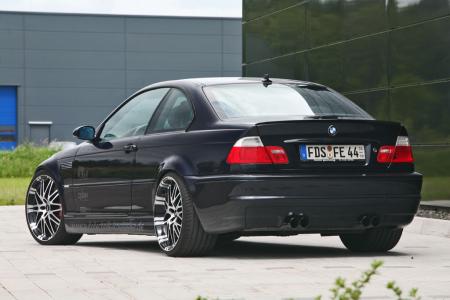 A KW-sport coilover kit V3 (1.749 Euro) and KW- sport stabilizers for 419 Euro make the handling of the M3 supercharged even more sporty. You can get the conversion to LSD-gull-wing-doors in Pfalzgrafenweiler for 1.990 Euro.
Further Readings:
Filed Under: Tuning
Comments (0)
Leave a Reply
You must be logged in to post a comment.