By arman on May 04, 2010 with Comments 0
---
American tuner VF engineering products is now available in UK through APS of Brackley. And they are throwing a party to mark this event by releasing this powerful package.
VF's supercharger package for Audi R8 V8 unleashes the potentials of the car's 4.2 liter TFSI and increase the power and torque form the standard 420 hp and 317 lb.ft to an amazing and 548 bhp at 7500rpm, with peak torque of 437 lb.ft at 4800 rpm.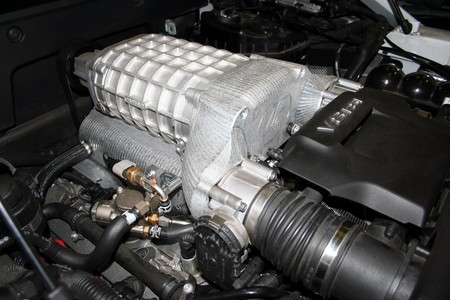 Headline VF Engineering Audi R8 supercharger technical specification includes:
GIAC custom tuned software to optimise performance
OEM soft rev limiters and top speed governor removed
Eaton TVS1900 satin black supercharger
1 year unlimited mileage limited product warranty
VF- CNC machined 6061 aluminium bracket system
VF- CNC machined 6061 aluminium inlet runners
OEM Goodyear idler pulleys
VF- Custom tuned supercharger intake
Internal overrun bypass valve system
OEM crank case ventilation system
Replacement OEM serpentine belt
Further Readings:
Filed Under: Tuning
Comments (0)
Leave a Reply
You must be logged in to post a comment.