By Justin on Oct 10, 2008 with Comments 0
---
The Mitsubishi Eclipse has always been a car that has been popular with car tuning enthusiasts.  For years, this car was not only sporty, good looking and offered great performance, but it was also friendly to many budgets.  The 2009 Mitsubishi Eclipse is no different and with a variety of updates and optional equipment, it is well worth a look.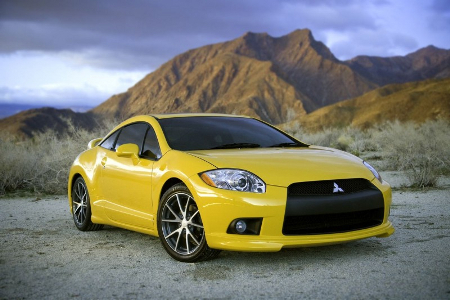 What's New for the 2009 Mitsubishi Eclipse?
There are several things that are new to the Mitsubishi Eclipse including the GT trim level getting a very nice two tone front bumper treatment, the GT trim also getting a larger spoiler, more aggressive styling and a variety of upgrades to equipment including: a tuned dual exhaust which I hear is supposed to sound amazing, active stability control and for all you car tuning enthusiasts more horsepower.

2009 Mitsubishi Eclipse Tech Specs
The 2009 Mitsubishi Eclipse comes in two trim levels, the budget friendly GS coupe and the GT coupe.  Both the GS coupe and the GT coupe come with optional standard or automatic transmissions and front wheel drive.  In addition, the GS coupe offers a 2.4 liter 4 cylinder engine with a peppy 162 horsepower.  For those interested in the GT version, the engine is a 3.8 liter V6 with 263 horsepower.  Besides plenty of power for car tuning enthusiasts available, the interior is full of plenty of nice amenities including GPS, a very decent stereo system, optional leather seats and much more.
While the 2009 Mitsubishi Eclipse offers plenty for those that would like a sporty looking vehicle with plenty of power, it still fits nicely into most budgets.  The GS coupe can be had for about $20K and the GT coupe is about 5K more.
Filed Under: General
Comments (0)
Leave a Reply
You must be logged in to post a comment.